Your IDILIQ Home in Nueva Andalucia Awaits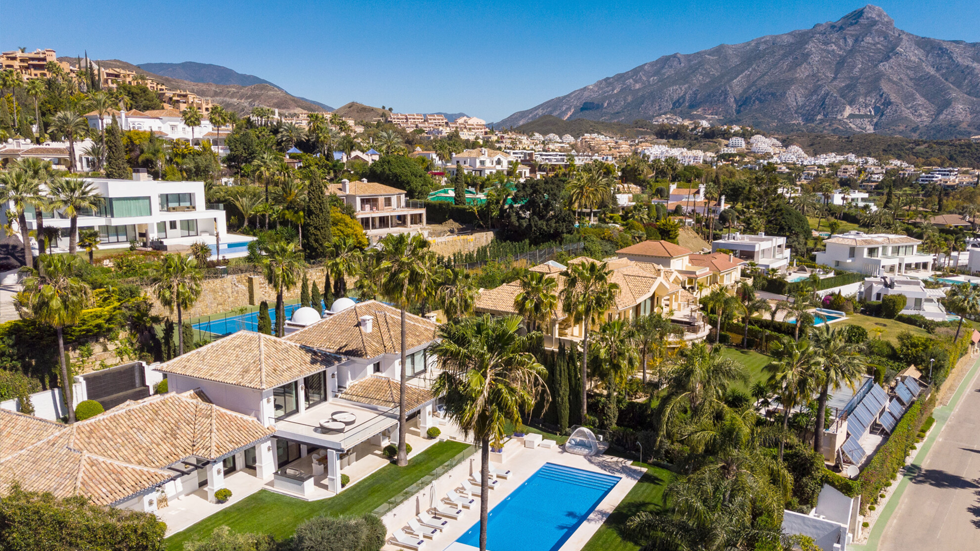 Looking for a place to live in the Costa del Sol sun, but not sure where to start? Try Nueva Andalucia. With a bit of everything offered here, Nueva Andalucia has the best of both worlds.
Town, Country, or Beachside: Your Choice
Nueva Andalucia is not just a town, but a municipality -and the largest one in Marbella at that. This means that for those who want it, a Spanish lifestyle in a large and thriving town of greater Marbella is easy to find by choosing to live in Nueva Andalucia. In town, you have everything you could need on a daily basis and more, all at your doorstep and all with the distinctly-Marbella lifestyle of quiet comfort.
Stretching outward of Nueva Andalucia town is greater Nueva Andalucia, known for its natural beauty and world famous for its golf courses. You can live amongst nature here, tucked into the Marbella hills and surrounded by pine, cork, and olive trees and punctuated throughout with perfectly landscaped golf greens. Because in Nueva Andalucia, you're never far from a golf course or two, making it a perfect place to live for those who appreciate a more relaxed day-to-day living in the sun without sacrificing quality.
Inland by just the smallest of fractions, and stretching northwards into the Marbella hills, you won't technically find a beachside home for sale in Nueva Andalucia. You can, however be within walking distance of the beach if you so choose, and it's exceptionally easy to have stunning beach views from nearly any home here, some stretching as far as Gibraltar, close to 70km away, or even beyond to Africa.
No matter where you prefer to live -town, country, or beachside, you can find it in Nueva Andalucia.
Every Kind of Home Available
No matter which part of Nueva Andalucia calls to you and your lifestyle, you can find a home to meet it here. From small, retirement homes to expansive villas, penthouse apartments to comfortable townhouses, garden apartments, and more, Nueva Andalucia offers it all. Naturally, golf properties abound here in every size, as do family townhouses or larger family villas thanks to numerous golf courses and international schools nearby. You'll also just as easily find economic retirement or holiday homes in town or out, as much as luxurious estates for those seeking space, privacy, and security without losing the chance to see and be seen on a more selective basis.
Finding the style of home you're looking for is easy, too. New builds with modern features, added security, and move-in readiness is readily available throughout the Nueva Andalucia area, as are resale homes with luxury features, traditional Andalusian-styled homes in every shape and size, and everything in between. No matter what your home preferences or your budget, Nueva Andalucia delivers. Take these properties, for example:
This classic Andalusian villa will never let you forget you're living in sunny Spain! Complete with a sub-tropical garden and outdoor living areas that are absolutely dream-worthy, this 3-bedroom villa also comes with a home office, artist's studio and more. Plus it's only a short walk away from Puerto Banus, meaning complete tranquillity and vibrant hustle and bustle are both yours for the taking anytime.
A holiday home like no other is waiting for you with this apartment in Nueva Andalucia! Modern and spacious, in the heart of Golf Valley, and with sea views too, this 2-bedroom apartment is close to local amenities, including public transport links, with incredible golf opportunities nearby,
making it a highly desirable home for golfers who return to Spain year after year to play on our world-famous courses.
This modern townhouse offers plenty of space and privacy in Nueva Andalucia. Only ten minutes' drive to town and moments from multiple golf courses and their luxury clubhouses, this 3-storey home has a private fenced garden, large living spaces, updated bathrooms, community gardens and a pool, making it a perfect home or holiday home for families.
Every Lifestyle Accounted For
Whichever home in Nueva Andalucia calls to you, living here means you're only minutes away by foot or by car to the famously bustling nightlife of Puerto Banus, charming Marbella old town, and the luxurious Golden Mile in between, complete with all the stylish beach clubs, boutique shops, and chic bars, restaurants, and cafes throughout that the Marbella area is known for. An hour's drive will get you to either Malaga International Airport or Gibraltar, too, giving you limitless connections to home or further afield wherever you're moving to Spain from, while local activities abound on your doorstep, making you never want to leave. All this whilst living in lush greenery, amongst tree-lined streets, and surrounded by perfectly-manicured greens means if you're living in Nueva Andalucia, you are getting the best of both worlds.
Buying a Home in Nueva Andalucia
If you're looking to buy a home in Nueva Andalucia but are not sure who to turn to for help, get in touch with us here at IDILIQ Estates. We not only have an extensive portfolio of homes for sale in Nueva Andalucia, but our office is also located here, many of our real estate agents are local to the area, and we have over 40 years of experience on the Costa del Sol and know our community well. We'll happily offer our knowledge and insight on the area and into every home to help you find the exact one you're looking for, whether or not you know what that is just yet.
Start with a browse around our Nueva Andalucia homes for sale, let us know what catches your eye and why, and we'll take care of the rest putting together a personalised selection of incredible homes for your consideration. Contact us today to get started!