A Place In The Sun Needn't Cost The Earth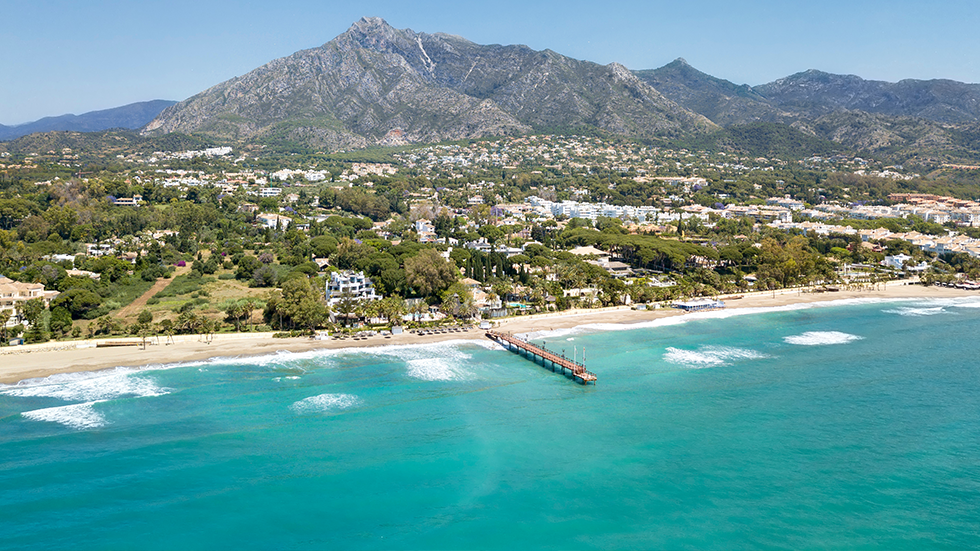 Living on the Costa del Sol may be a dream for many, but it isn't a dream that can't come true. Despite being one of the sunniest destinations with unsurpassed quality of life, it can also be one of the most affordable places to live, work, or retire. And making that dream a reality by renting or buying a home on the Costa del Sol is easier than ever with IDILIQ Estates who offer a complete portfolio of permanent, investment, and holiday homes available for every budget in towns across the Costa del Sol.
Estepona
Equally well-known for its striking floral displays, expansive beaches, and historic old-world charm, Estepona is quickly becoming one of the top destinations on the Costa del Sol to live, work, or retire. Winding cobblestone streets, a beach promenade that stretches nearly the full length of the town, historic ruins, traditional markets, superb local gastronomy…Spanish character abounds around every corner in Estepona. But just as equally, modern amenities are to be found on your doorstep here, too. Local and international supermarkets, Spanish and international schools, a modern marina complete with a popular nightlife scene, bars, restaurants, hairdressers, beach clubs, independent shops and national chains, hotels, golf courses, hospital, and more -there's no questioning the beauty that Estepona offers as well as the excellent facilities it offers everyone and exceptional lifestyle you'll lead living here.
Move to Estepona and into this two-bedroom apartment for only 205,000€. You'll be within walking distance to the sea and the town centre, have access to a lovely community pool, and will benefit from your own large, private terrace, air conditioning, and modern facilities throughout that make living in Spain -and Estepona, a dream. This apartment also already has a holiday rental license, too, making it an ideal rental investment opportunity.
Nueva Andalucia
Tucked into the valleys that renowned international golf courses call home, Nueva Andalucia is a golf lovers' paradise in Spain. Quiet and peaceful tree-lined streets are the norm here, as are family homes and villas set amongst the private, community, and public green spaces and gardens which offer ample room to stretch and relax in the sun -all only minutes away from sparkling Mediterranean waters and within easy reach of numerous prestigious international schools and world class golf facilities as well as every modern amenity you need to live an idyllic life in the sun.
This townhome in Nueva Anadalucia is within walking distance to the famously luxurious Puerto Banus and yet remains quiet, peaceful, and perfectly secluded within a private and gated urbanisation, offering the best of both worlds when making the move to Spain. Classic Andalusian architecture meets modern amenities here, too, as well as your private rooftop terrace, one beautifully furnished bedroom and bathroom, air conditioning, and more, giving you the chance to live an ideal life in the sun, whether permanently or as a holiday home, that you can enjoy year after year. All offered at just 240,000€.
Marbella
As charming as Estepona but famously luxurious, too, Marbella offers a bit of everything: a quaint old town with winding cobblestone streets; charming fountains, gardens, and statues dotted throughout; small, independent shops -including boutique shops you won't find elsewhere; first-class bars and restaurants featuring local and international gastronomy from celebrated chefs; exclusive spas, resorts, and sporting facilities; pristine beaches and lively beach clubs; and a reputation for exceptional quality throughout that have given way to its lifestyle brand, Marbella is an exceptionally iconic place to live on the Costa del Sol.
A piece of Marbella luxury without the price tag you'd expect, this 3-bedroom, 1-bathroom, apartment in Miraflores, Marbella is in the heart of everything this iconic Costa del Sol town offers and available from IDILIQ Estates for only 205,000€. Perfect for holiday living, as an investment property, or as a permanent home in one of the most emblematic resort towns in Spain.
Riviera del Sol
Resort living in Spain is made easy in Rivera del Sol, a small coastal suburban area just west of Marbella and boasting a lovely collection of picturesque homes, bars, restaurants, beach clubs, and golf resorts. Quiet, peaceful, and catering to international residents yet only a short drive from bustling Fuengirola and Malaga beyond, Riviera del Sol offers an easy transition into a life in the sun in Spain or an ideal holiday home base from which to explore everything the Costa del Sol has to offer.
Make your move to Spain and live in the resort area of Riviera del Sol with this middle floor 2- bedroom apartment for only 238,000€, complete with underground parking, lift, terrace, community gardens and pool, fitted wardrobes, marble flooring, and more, offering you a postcard-perfect piece of Spanish sunshine at an affordable price and in an incredible welcoming residential area of the Costa del Sol.
Mijas
Popular for its quiet location, incredible mountain and sea views, an ideal location near beaches, amenities, and access to a host of sites and activities, Mijas is an increasingly popular place to call home on the Costa del Sol, particularly for holiday-makers and retirees looking to escape the hustle and bustle of city life and embrace village living in Spain without being too far from anything you might miss. Living here, you'll appreciate a warm and welcoming community and relaxed pace of life in an incredible setting, surrounded by lush valleys, rolling hills, well-manicured golf courses, and views for days, often reaching as far as Africa. And in Mijas, you're never too far from all the amenities you need, either, with the village centre on your doorstep and larger Costa del Sol towns just a short drive away.
These new development apartments in Mijas start at a budget-friendly price of just 237,000€ for a two-bedroom, two-bathroom home that comes with modern amenities throughout, golf course views, large terraces, well-kept community gardens and pools, and just 3 kilometres from the sea on well-established roads.
At IDILIQ Estates, we'd love to help you find your home in the sun, no matter where you're looking to live or what budget you have. Our portfolio of budget-friendly homes for sale and rent in Estepona, Nueva Andalucia, Marbella, Riviera del Sol, Mijas, and across the entire Costa del Sol offer stunning locations to live, work, and play as well as incredible value for money, making a life in the sun easier and more affordable than you may think!
Get in touch with our local real estate agents to discuss your wish list and budget and we'll be happy to help you find your next permanent, holiday, or investment home in Spain.